Podcast: Play in new window
Book Vs Movie
Steel Magnolias
The 1987 Play Vs The 1989 Classic Film
The Margos are making sure Shelby drinks her juice and that Drum doesn't shoot Oiuser in this special episode talking about a play to movie adaptation from the 80s. Based on a true story about his sister's death at a young age after giving birth, Robert Harling's Steel Magnolias is the smart, funny tale of strong women who are underestimated by the men in their lives.
The play, which opened Off-Broadway in 1987, is notable for having one setting (Truvy's beauty parlor in Northern Louisiana) and an all-female cast. The lines are so witty and sharp, audiences embraced it very quickly.
Soon Hollywood came calling, and now we have one of the ultimate "chick flicks" of all time which came out in 1989 and stars the soon-to-be-famous Julia Roberts as well as a huge cast of amazing actors. (This is truly an ensemble piece.)
This is one of the most quotable films of the last 30 years and we have a ball dissecting the differences between the play and film.
In this ep the Margos discuss:
The story of Robert Harling's sister Susan Harling Robinson
The main themes of both play and film
Biggest changes between the original work and adaptation
The cast including Roberts, Dolly Parton (Truvy,) Sally Filed (M'Lynn,) Shirley MacLaine (Ouiser,) Daryl Hannah (Annelle,) Olympia Dukakis (Clairee,) Tom Skerrit (Drum,) Sam Shepard (Spud,) Dylan McDermott (Jackson,) Kevin J. O'Connor (Sammy,) and Ann Wedgeworth (Aunt Fern.)
Clips Featured:
Steel Magnolias  trailer
"30 minutes of wonderful vs. a lifetime of nothing special"
"Hit Ouiser!"
Music: Steel Magnolias soundtrack George Delerue
Discussed in this episode...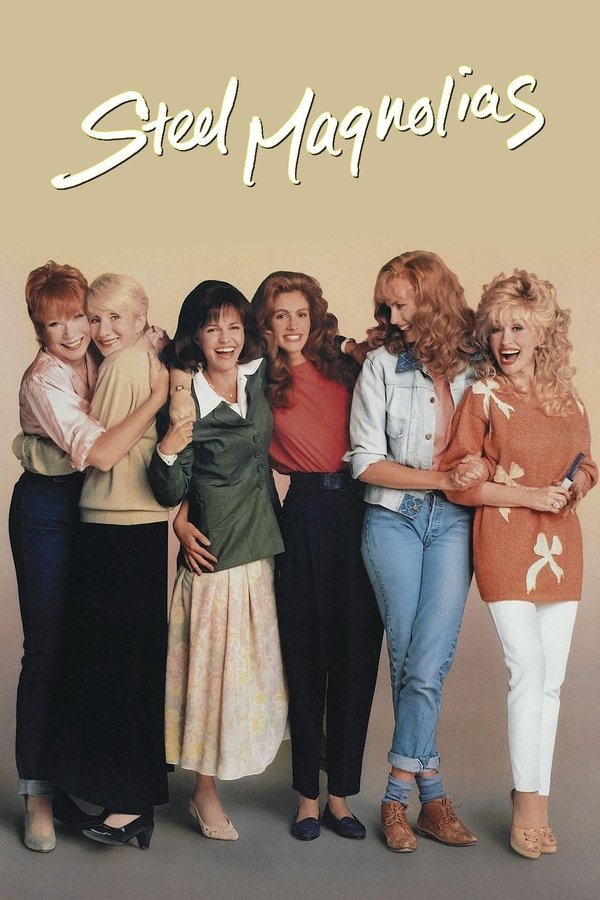 Steel Magnolias (1989)
This heart wrenching drama is about a beauty shop, in Louisana owned by Truvy, and the tragedies of all of her clients.
More details at TMDb.