Book Vs Movie: "The Poseidon Adventure" (1971)
The differences between the super gross book and the really fun movie (We are not going to hide our bias here!)
At Book Vs Movie, whenever people say "Duh–the book is always better than the movie!" the Margos would say "yeah–have you ever read Jaws?" Well, now we have another book to movie adaptation that features a horrible, racist, sexist, homophobic, and misogynistic novel that became a fun hit film. 
Sportswriter Paul Gallico helped many stories become excellent films including Pride of the Yankees, The Snow Goose, and the stage musical Carnival! He wrote over 40 books, numerous short stories, and dozens of TV and movie scripts. 
He began his career working for the sports desk at the New York Daily News and later became a prolific travel writer spending 10,000 miles on the road in the U.S. for Reader's Digest. 
In 1969, he published The Poseiden Adventure to little fanfare. The tale of a wayward ship that is sunk while traveling to Africa features some of the most loathsome characters we ever had the displeasure of reading. (The audiobook featuring narration by actor Dylan Baker makes it slightly more palatable.)
Trigger warning: This story features a character being raped who then comforts her attacker and then wishes she was pregnant by him. (Seriously!)
The movie by producer Irwin Allen and director Ronald Neame became an instant classic which began a slate of many disaster films in the 1970s. It would become the highest-grossing film of 1973 grossing over $125 million worldwide. It won an Academy Award for best special effects and for the best original song "The Morning After." 
Our lead actor is Gene Hackman as Reverand Frank Scott who is a renegade preacher who turns into a hero for the passengers of the S.S. Poseidon (partly filmed on the RMS Queen Mary.) at the time, he was a hot property after the success of The French Connection and his performance is very passionate. 
Co-star Shelley Winters won the Golden Globe for Best Supporting Actress for her portrayal of Belle Rosen–a middle-aged swimmer who gives her life to protect the survivors. (Spoiler!)
Have a listen to find out our real feelings between book & movie as this one will go down as one of our biggest takedowns of a horrible piece of work. 
In this ep the Margos discuss:
The writing career of Paul Gallico
How truly terrible this book is and why you should not read it. 
The special effects of the film and how it changed disaster films of the future
The cast: Gene Hackman (Reverand Frank Scott,) Ernest Borgnine (Mike Rogo,) Red Buttons (James Martin,) Carol Lynley (Nonnie Parry,) Roddy McDowell (Acres,) Stella Stevens (Linda Rogo,) Shelley Winters (Belle Rosen,) Jack Albertson (Manny Rosen,) Pamela Sue Martin (Susan Shelby,) Eric Shea (Robin Shelby,) and Leslie Nielsen (Captain Harrison) 
Clips used:
The Poseidon Adventure  trailer 
A tidal wave hits the shit
The immediate aftermath of the ship turning over
Stella Stevens "panties" scene
"Lindaaaaaaaaaa!!!"
Reverend Scott sacrifices himself for the good of the group
The group is rescued 
Closing music "The Morning After" written by Al Kasha & Joel Hirschorn and sung by Maureen McGovern
Join our Patreon page to help support the show! https://www.patreon.com/bookversusmovie 
Book Vs. Movie podcast https://www.facebook.com/bookversusmovie/
Twitter @bookversusmovie www.bookversusmovie.com
Email us at bookversusmoviepodcast@gmail.com
Brought to you by Audible.com You can sign up for a FREE 30-day trial here http://www.audible.com/?source_code=PDTGBPD060314004R
Margo D. @BrooklynFitChik www.brooklynfitchick.com brooklynfitchick@gmail.com
Margo P. @ShesNachoMama https://coloniabook.weebly.com/ 
Podcast and post content is provided by Book Vs Movie Podcast. Any views, opinions, advertisements, affiliate links, or grammatical errors (😉) contained within feed-provided content is that of Book Vs Movie Podcast and NOT that of Electronic Media Collective.
Discussed in this episode...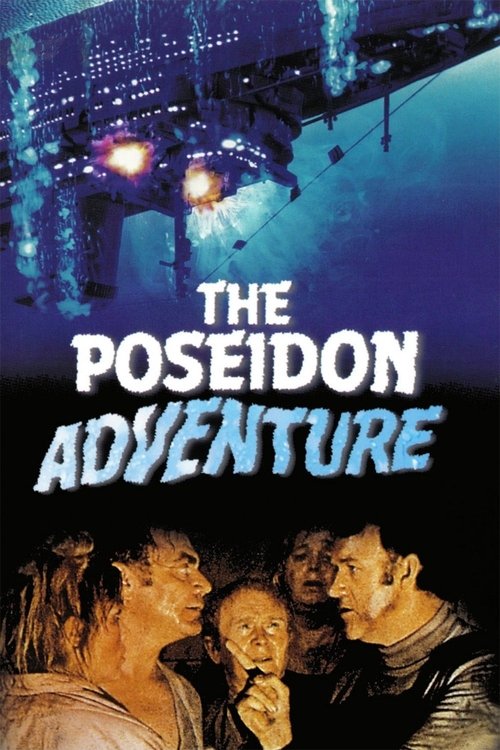 The Poseidon Adventure (1972)
When their ocean liner capsizes, a group of passengers struggle to survive and escape.
More details at TMDb.