Book Vs Movie
The Stepford Wives 
Ira Levin's Terrifying 1972 Novel Vs The 1975 William Goldman's Screenplay (Or is it?)
Also, the really bad take by Roger Ebert in 1975 (and the sequel!)
The Margos are heading back to the Burbs with our long 70s flowing hair and obsession with waxing kitchen floors in the Ira Levin classic novel The Stepford Wives that was turned into a film in 1975 and directed by Bryan Forbes. Stepford, Connecticut is the fictional setting where families move in and within four months–the wives turn into robots who love, sex, cooking, and cleaning
Joanna Eberhart leaves her beloved NYC for Stepford because her husband wants to experience life in such a surreally lovely setting. He also joins the local men's group and stays every night. Joanna knows something is messed up but can't figure out exactly what is going on to the women of Stepford–until its too late.
The 1975 adaptation did modestly well and had some bad reviews by top critics like Paulene Kael and Roger Ebert (he was a bit of a sexist, y'all!) The screenplay was adapted by past Book Vs Movie subject William Goldman (The Princess Bride) and directed by Bryan Forbes who chose his wife as one of the first Stepford wives we meet–which therefore changed the proposed costuming of miniskirts to modest dresses. Many people think is a mistake in the telling of the story. They are wrong and we discuss that in the podcast.
The film was nightmare fuel to so many kids who saw it on TV in the 70s and 80s and revisiting the book brought back was such a fun treat (we originally covered this in 2016.)
So which did we prefer between the book and the movie? Have a listen and find out.
In this ep the Margos discuss:
The biography of author Ira Levin
The main points of the story and the women's rights movement of the 1960s & 1970s
Changes between the 1972 novel and 1975 film
Our theory as to why some top critics at the time (coughs, Roger Ebert, coughs) missed the whole point of the film
The cast including Katharine Ross (Joanna Eberhart,) Paula Prentiss (Bobbie Markowe,) Peter Masterson (Walter Eberhart,) Nanette Newman (Carol Van Sant,) Tina Louise (Charmaine Wimpiris,) Patrick O'Neal (Dale "Diz" Coba,) Josef Sommer (Ted Van Sant,) Franklin Cover (Ed Wimpiris,) Carol Eve Rossen (Dr. Francher,) and Mary Stuart Masterson (Kim Eberhart)
Clips used
The Stepford Wives have a "consciousness-raising" discussion
"The Stepford Wives" trailer (1975)
Bobbie meets Joanna
Joanna finds out what really happens to the women
Music: Michael Small
Join our Patreon page to help support the show! https://www.patreon.com/bookversusmovie
Book Vs. Movie podcast https://www.facebook.com/bookversusmovie/
Twitter @bookversusmovie www.bookversusmovie.com
Email us at bookversusmoviepodcast@gmail.com
Brought to you by Audible.com You can sign up for a FREE 30-day trial here http://www.audible.com/?source_code=PDTGBPD060314004R
Margo D. @BrooklynFitChik www.brooklynfitchick.com brooklynfitchick@gmail.com
Margo P. @ShesNachoMama https://coloniabook.weebly.com/
Podcast and post content is provided by Book Vs Movie Podcast. Any views, opinions, advertisements, affiliate links, or grammatical errors (😉) contained within feed-provided content is that of Book Vs Movie Podcast and NOT that of Electronic Media Collective.
Discussed in this episode...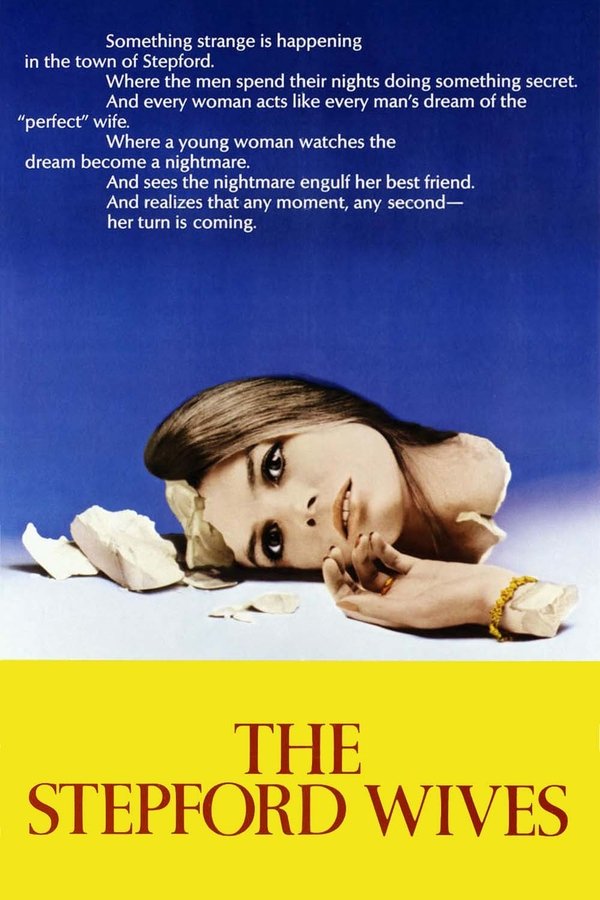 The Stepford Wives (1975)
Joanna Eberhart has come to the quaint little town of Stepford, Connecticut with her family, but soon discovers there lies a sinister truth in the all too perfect behavior of the female residents.
More details at TMDb.